Description
Fiiish Blaster Shad 160mm Combo
The Blaster Shad is a lure dedicated to pike fishing. After 5 years of research and development, we present to you this concentrate of innovations that will allow you to adapt to many fishing conditions. Equipped with the Player Concept, which allows you to adjust the weight of the head according to your needs, you can fish in different depths, at different speeds, with several body options on one and the same head. A lot of work has been done on the design of the body, to allow it to swim at very low speed while moving as much water as possible, hence its name ``Blaster Shad.``

Fiiish Blaster Shad Features 
PLAYER CONCEPT - ONE HEAD MANY OPTION
This concept allow to fishing in different dephs and different speed retrieve. Be ready in all conditions !
PLAYER HEAD

ONE HEAD,MANY OPTIONS: A single head compatible with several body sizes. Fish with the same lure in several depths of water.
PLAYER BLOCK

Player Blocks are wedges that fit into the Player Head. Two types of shims are available with the Blaster Shad: Plastic shims (0g) and zinc shims (3g). By varying the combinations, adapt the weight of the head to adjust the parameters of use of your lure. You will be able to vary your recovery speed and swimming depth of your Blaster Shad. In order to avoid the insertion of air, it must contain 4 shims at all times
PLAYER STINGER

The Player Stinger is a armament specially designed for the Blaster Shad. It allows both to lock the Player Concept system while allowing to quickly change the weight of the Player head. The design of the quick clip and the addition of a rolling swivel give the armament freedom of movement, reducing the number of fish lost during combat. The exclusive hook is produced in collaboration with VMC, its optimized design greatly reduces the number of stalls in combat and maximizes the efficiency of the hooking.
A LOT OF COMBINATIONS


SHALLOW - 0,50m to 1m
REGULAR - 2 to 3m
MEDIUM HEAVY - 3 to 5m
HEAVY - 5m and +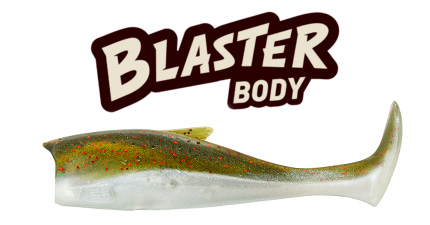 Injection Molding : The Blaster Shad bodies are designed by injection of a plastic formulated in Japan. This manufacturing process and this material gives it increased resistance and longevity.
Coloured plastic : Multi-injection makes it possible to obtain colored bodies in the mass. This coloring makes it possible to obtain unparalleled and lasting natural nuances and depths.
HIGH REACTIVITY
: Swim at the slightest request, at the slightest movement.
NON-STOP Swimming : Goes into action during all fishing phases, both during breaks and during reel recoveries.
NEW GENERATION OF PADDLE
Amplitude increased: The design and the volume of this new generation of paddle have been specifically designed to move a maximum of water at very low swimming speeds. The emitted low frequency wave will then radiate in a large volume of water and make the lure visible from afar.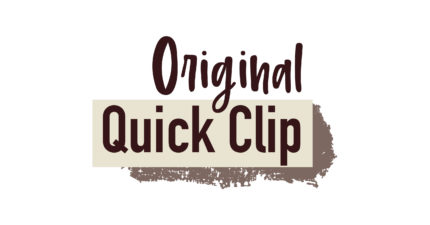 The Original Quick Clip is an accessory that clips the armament against the body of the lure during the fishing stages (casting and retrieval) and releases it when hooking. Easy to use, it improves the presentation of the lure and increases its lifespan. This innovative object also allows the Player Stinger to stay in place and thus limit hooks at the bottom.
THE RANGE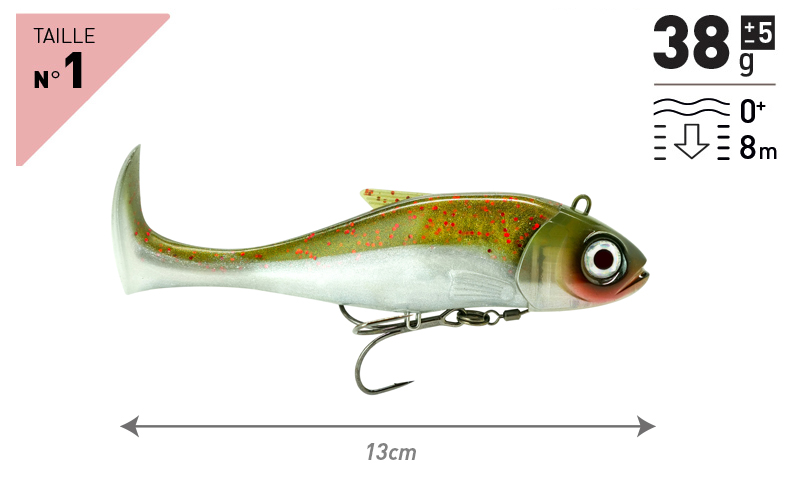 The 13cm size is very versatile and will satisfy both experienced pike anglers and beginners. Its weight varies from 33g to 43g depending on the fishing conditions and the speed at which you want to fish.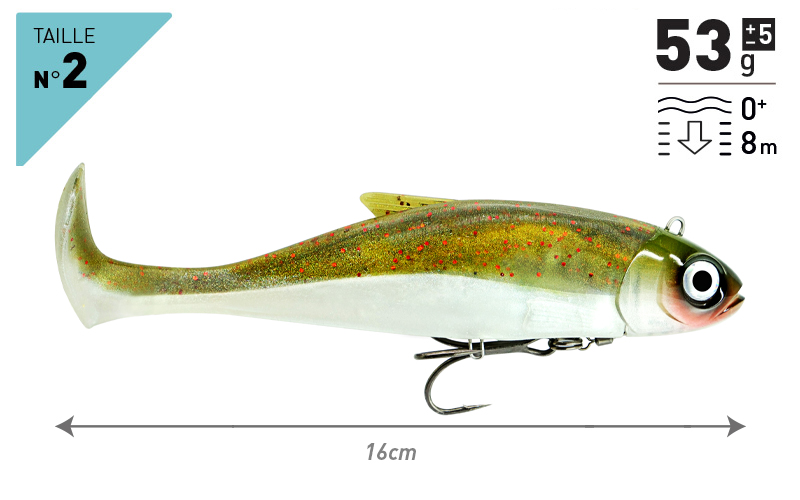 The 16cm size is also distributed in the 4 colors. You will be able to vary the weight of your Blaster Shad between 48 and 58g depending on the chosen combination.
Delivery
Shipping Information
At Duo Hook, we aim to provide you with a seamless shopping experience, including reliable and efficient shipping services to meet your needs.
Domestic Shipping (Ireland and Northern Ireland)
All orders within Ireland and Northern Ireland are shipped using trusted carriers such as DPD, Fastway, or EasyDel, offering a Next Day Service for swift delivery. We understand the importance of prompt service, and our dedicated couriers ensure your order reaches you promptly.
Shipping Rate: €4.95
Free Shipping: Orders over €50 qualify for free shipping within Ireland and Northern Ireland.
International Shipping (United Kingdom and Europe)
For our valued customers in the United Kingdom and Europe, we use dependable carriers like DPD or AnPost to deliver your orders safely and efficiently. Please note that delivery to Europe destinations typically takes approximately 2-4 working days.
Tracking Your Order
We believe in transparency and keeping you informed every step of the way. Once your order is carefully packed and ready for dispatch, you will receive a shipment notification email. This email contains the essential delivery tracking code, allowing you to monitor the current location and status of your order.
Shipping Queries
Should you have any questions or require assistance regarding shipping, please do not hesitate to contact us. Our customer support team is here to assist you, ensuring your order arrives in a timely manner and in perfect condition.
At Duo Hook, we're committed to delivering your angling essentials swiftly and efficiently, so you can focus on what matters most—your fishing adventures.
Payment & Security
Your payment information is processed securely. We do not store credit card details nor have access to your credit card information.
Let customers speak for us