Description
Lots of research was undertaken by Fiiish in France to develop the unique action of the Crazy Sand Eel patented as HSV® (Hight Swimming Vibration).
The body of the Crazy Sand Eel is infused with a proven formula using Anise.
THE SIZE OF THE LURE IS MEASURED WITH THE JIG HEAD FOR THE CRAZY SANDS EEL 100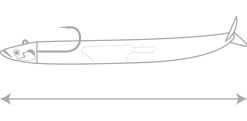 Payment & Security
Your payment information is processed securely. We do not store credit card details nor have access to your credit card information.