Description
More than 30.000 pcs sold
Less than 0,02% returns
100% waterproof
Breathble
Pockets with magnetic closing
Swivel hood
Light micro fleece lining
Ventilation pockets
Large back pocket
Built in gloves
Intro:
We are celebrating Dozer and Urus's 20th birthday by introducing the king of all versions - Version 6. 
You will find that everything is as it has always been -perfectly balanced materials and a design for demanding situations whether you catch your fish from the bank or in a boat.
The design maintains the practical and higly functional pockets that have characterized the Dozer Jacket and Urus pants right from the beginning.
Iconic and classic look including exposed chest pockets. A sharp and distinct design that celebrates simplicity without letting out as much as a single function.
Functionalities:
Our mission with version 6 is to manufacture the "greenest" yet strongest version that will do more and last longer. 
This means that among several improvements along the making we have developed on the fabric so that the lifetime and the water-repellent effect / waterproofness are dramatically improved. 
Detailed tailor features and methods have been added, which also contribute to higher wear resistance and prolonged service life. 
20 years of Dozer/Urus-evolution has taught us a great deal. Our ongoing challenge and goal is to deliver the same quality - with a holistic and realistic perspective on the environmental footprint we leave behind.
We believe that a long product life is the best we can do for the environment - everything else is green washing.
Version 6 represents solid experience in what you demand as an outdoor entusiast working you way to the fish of your dreams.
100% waterproof and breathable fabric ensures you a dry and comfortable feeling even in the heaviest rain and wind. Dozer and Urus 6 does not even fear salt water. Total saltwater resistant design which includes the latest generation of YKK® AquaGuard® zippers.
Dozer 6:
Cutting-edge hood with one hand adjutable drawcords. The elasticated adjust system allows you to personalize the fit to exactly your head even if you wear your farvorite cap.
The new wrist/cuff closure includes our latest Hypalon closure with molded and patented Velcro®
The fit of the jacket has been improved and adjusted to give you an even better experince when using it actively. You will find version 6 more spacious in the shoulder area as well as the lower arm part. New pleats are added to give you an even better fredom of movement.
Pockets:
Two water resistant* front pockets placed at chest height
Two hidden incline pockets with Ykk® zippers
One large back pocket
Napoleon inner pocket hidden behind flaps. Waterproof
*Waterproof/tight pockets; pockets are waterproof against rain, snow and wave splashes, for example. If pockets become submerged, or are not completely zipped, water will eventually penetrate. You will however stay dry, even if the inside of pockets fill with water.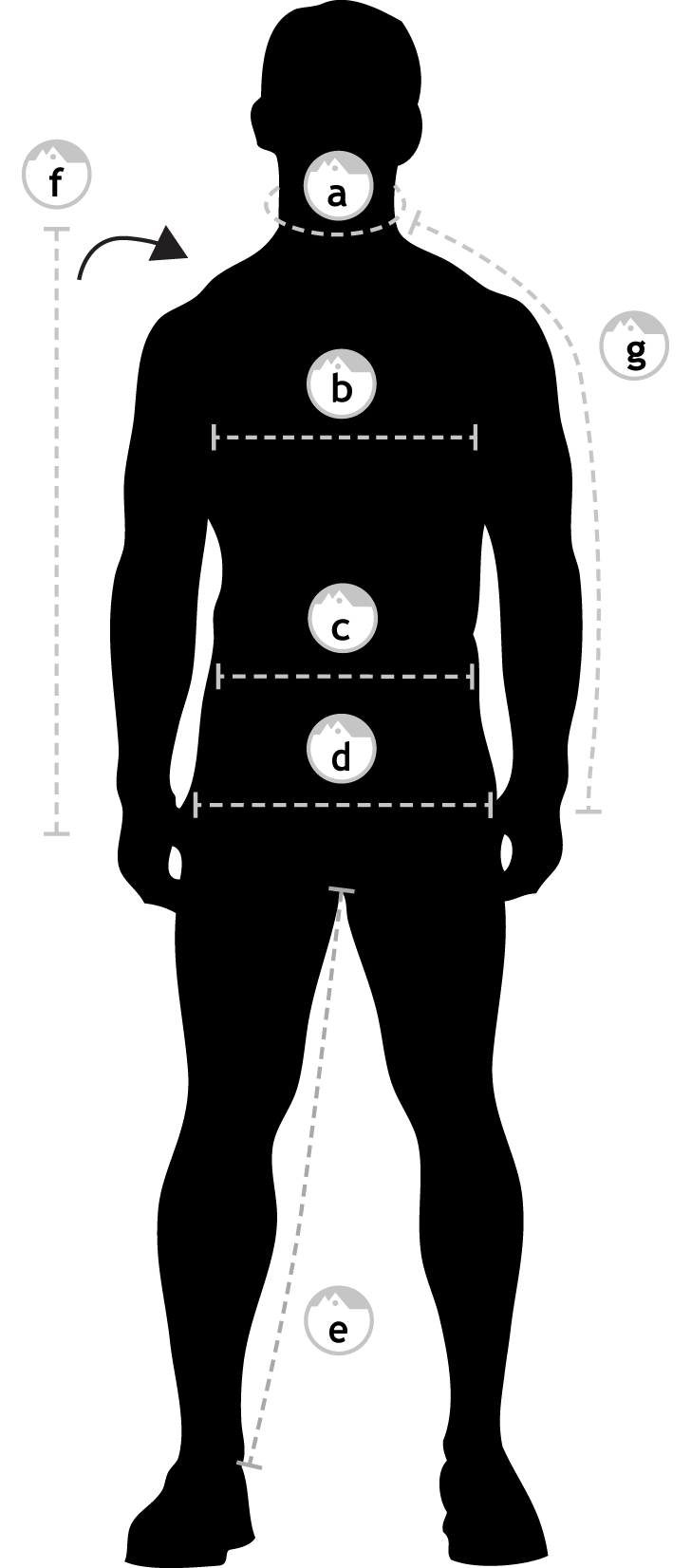 How to find your measurements
The best you can do is to take one of your own well fitting pants, jackets, shirts or the like and make your measurements directly on the garments. In this way it is easier and more precise than doing the measurement on your body.
a = Neck (shirts)
b = Chest
c = Waist
d = Hip
e = Inseam
f = Center back
g = Sleeve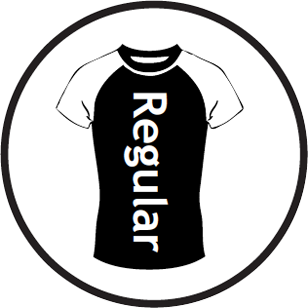 Dozer6

| | | | | | | | |
| --- | --- | --- | --- | --- | --- | --- | --- |
|   | S | M | L | XL | XXL | XXXL | JUMBO X |
| Center back (f) | 76 | 78 | 81 | 83 | 84 | 86 | 89 |
| Chest (b) | 122 | 125 | 128 | 132 | 133 | 136 | 148 |
| Sleeve (g) | 77 | 81 | 83 | 85 | 88 | 88 | 88 |
| Waist (c) | 116 | 120 | 122 | 124 | 128 | 130 | 146 |
Delivery
Shipping Information
At Duo Hook, we aim to provide you with a seamless shopping experience, including reliable and efficient shipping services to meet your needs.
Domestic Shipping (Ireland and Northern Ireland)
All orders within Ireland and Northern Ireland are shipped using trusted carriers such as DPD, Fastway, or EasyDel, offering a Next Day Service for swift delivery. We understand the importance of prompt service, and our dedicated couriers ensure your order reaches you promptly.
Shipping Rate: €4.95
Free Shipping: Orders over €50 qualify for free shipping within Ireland and Northern Ireland.
International Shipping (United Kingdom and Europe)
For our valued customers in the United Kingdom and Europe, we use dependable carriers like DPD or AnPost to deliver your orders safely and efficiently. Please note that delivery to Europe destinations typically takes approximately 2-4 working days.
Tracking Your Order
We believe in transparency and keeping you informed every step of the way. Once your order is carefully packed and ready for dispatch, you will receive a shipment notification email. This email contains the essential delivery tracking code, allowing you to monitor the current location and status of your order.
Shipping Queries
Should you have any questions or require assistance regarding shipping, please do not hesitate to contact us. Our customer support team is here to assist you, ensuring your order arrives in a timely manner and in perfect condition.
At Duo Hook, we're committed to delivering your angling essentials swiftly and efficiently, so you can focus on what matters most—your fishing adventures.
Geoff Anderson Dozer6 Black & Urus6 Black Suit
Payment & Security
Your payment information is processed securely. We do not store credit card details nor have access to your credit card information.
Let customers speak for us